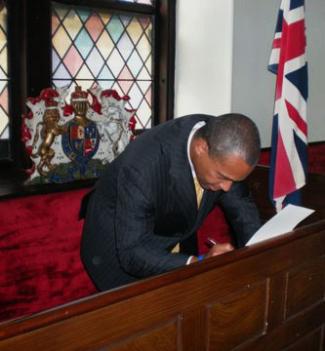 Governor Deval Patrick visits St. Peter's Church in Salem. As part of the 275th anniversary celebration of St. Peter's Church in Salem, the congregation invited Governor Deval Patrick to stop by the historic church. During his fifteen-minute visit June 9, the governor shook hands with parishioners and tried out the "State Pew," which had last been gubernatorially occupied in 1774 by General Thomas Gage, the last British royal governor of the Massachusetts Bay Territories.
"The folks at St. Peter's invited... [Governor Patrick] to help us mark not just a date in the calendar, but a theological point, that we are now one in Christ,'" the Rev. Paul Bresnahan, rector of St. Peter's, wrote in an e-mail.
St. Peter's, at 24 St. Peter St., will continue to celebrate with its anniversary with other special events, including a banquet on Sept. 18 and a performance of the Fauré Requiem by the Wrekin College Boys Choir, from Shropshire, England, on Oct. 25.