In the race to slow the progression of climate change, many efforts are devoted to reducing carbon emissions: solar and wind power, hybrid and electric vehicles, and energy efficient building practices. But scientists and climate change activists are increasingly focusing on carbon sequestration, a term that encompasses a range of practices that remove the already-present carbon dioxide from the atmosphere.  
One of the simplest and most readily available means of carbon sequestration is photosynthesis, the process through which plants convert carbon dioxide to oxygen. The carbon is then stored in the organic matter of the plant and in the soil. 
Amy R. Tighe is a graduate student pursuing a Master of Divinity degree at Episcopal Divinity School. She is focusing her studies on how faith communities can contribute to the fight against climate change, specifically focusing on a soil amendment called biochar. Using biochar is an accessible step that individuals and communities can take towards removing carbon from the atmosphere by promoting healthier and more abundant plants. 
Tighe said biochar contributes to reducing carbon in two ways: first, by preventing carbon from being released during plant decomposition, and second, by contributing to the health of plants.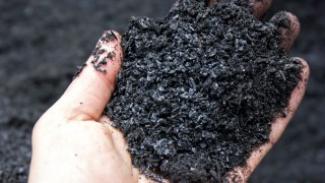 Biochar (image via pacificbiochar.com) Biochar is a specially processed charcoal that is made from biomass such as tree branches and brush, using a kiln called a pyrolyzer. When organic material such as a fallen tree branch breaks down naturally, it can take years to fully decompose, and carbon is being released from the branch into the atmosphere throughout the decomposition process. Making biochar eliminates this process and fixes the carbon into the finished biochar.  
The finished biochar can be added to soil in parks, gardens or yards, either alone or as part of a mixed supplement. It does not provide nutrients, but rather adds structure to the soil that is vital to the life of microbes, fungi and other microorganisms that contribute to the overall health of the soil. Biochar also helps the soil retain water. According to Tighe, all of this adds up to stronger, healthier plants that are able to absorb more carbon from the atmosphere through photosynthesis. 
Tighe is actively seeking congregations that would like to learn more about biochar and how it could be implemented in their community. She is available to meet with property committees, creation care committees, youth groups and more. She will bring samples of biochar and discuss how churches have a role to play in a more sustainable future, and can work with the host parish to design a program, from a casual coffee hour to a "biochar day." 
"I'm happy to talk to as many people as I can," she said. "I'm getting the word out about this and helping people understand [biochar] and taking it on."  
Tighe was led to faith-based environmental activism through her prior work as a LEED certified realtor. Eventually, her work with sustainable building led to an interest in soil, plants and localized efforts to fight climate change, specifically how faith communities can take action. 
"Coming to divinity school was about learning how to appreciate the divine, and then to say, we've been given this incredible gift, and we have to think of new ways of taking care of this gift," she said. 
To invite Amy Tighe to speak at your church, or to learn more about biochar, contact her at 617-851-2260 or atighe@eds.edu
--Ellen Stuart Kittle