Fall means pumpkins at Epiphany Parish in Walpole. Since 2006, the church has been hosting a pumpkin patch, incorporating the entire community into this month-long, seven-day-a-week effort.   The word is spreading, as well: this year, St. Mark's Church in Burlington opened its own pumpkin patch that also uses Pumpkins USA, the nonprofit that supplies the Walpole patch. 
Pam Driscoll, organizer of the Epiphany patch, said she is thrilled to see other towns hosting Pumpkins USA pumpkin patches.  She said that the organization's reach hasn't been wide in the Northeast, but that it seems to be taking hold. 
"It's something different, something forward thinking…it really incorporates the community," she said. "And there's not really a competition [between towns] …you could have a patch at a church in each town and they would still be successful." 
Pumpkins USA leases land on the Navajo reservation in New Mexico to grow its pumpkins, and then trucks them all over the country for pumpkin sales hosted by churches and other nonprofits. A portion of the profits is sent back to Pumpkins USA, where it is used to fund schools and support programs on the Navajo reservation. The remainder stays with the nonprofit hosting the sale, to use for its programming. Epiphany uses its profits for the local food pantry and for other initiatives. St. Mark's will be making a donation to People Helping People, an all-volunteer group of Burlington residents who operate a holiday program, a basic needs fund and a food pantry that is on St. Mark's property. 
In Walpole, the pumpkin patch has become a fixture in town. "When you go through town you can't miss us," said organizer Pam Driscoll. "We have to do a lot less publicity now, because everybody in town knows." 
The patch has also become a powerful force for raising money for community programs: The first patch raised $5,000, but last year the gross was close to $28,000. (A percentage of that total is sent back to Pumpkins USA.)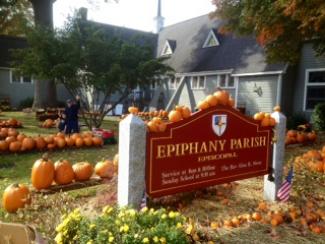 Pumpkins surround Epiphany Walpole This year, Epiphany has made an effort to open up the pumpkin patch to groups in town that need community service hours, including the local Catholic church and some scout troops. For Driscoll, one of the best elements of the pumpkin patch is how it brings the entire community to Epiphany.  "Now everyone says, 'that's the church with the pumpkins!'" Driscoll said. And although for some it may be only "the church with the pumpkins," for others, it's become their church. Driscoll said that there are members of the church who were first introduced to Epiphany at the pumpkin patch. "We've definitely had people join the church, join the choir or reach out to us for help because they first heard about us through the pumpkin patch," Driscoll said. 
She says that people feel welcome because of the casual, festive atmosphere at the pumpkin patch. They relax, pick out a pumpkin and often stop to talk with old friends and new acquaintances. 
"It's a relaxed, easy place for people to talk and get to know each other—it's not a hospital, it's not a church service," Driscoll said. "You talk to a lot of people, and you hear a lot of stories." 
This is the first year that St. Mark's in Burlington is operating a pumpkin patch. The idea started with looking at ways to raise money for People Helping People and support its mission to provide assistance to residents of Burlington who have a need for food, medicine, heat or utilities; and to provide holiday food baskets and gifts for children.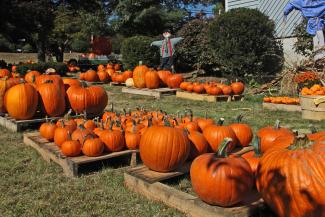 Pumpkins at St. Mark's in Burlington The pumpkin patch began with a core team of St. Mark's parishioners who were in leadership training through the Leadership Development Initiative in the diocese. In order to operate the pumpkin patch seven days a week throughout the month of October, they enlisted the support of other houses of worship, a bank, an investment business, the Rotary, the Historical Society and others. Each group is responsible for a day at the patch, and can bring any information about their group to share with customers. St. Mark's also reached out to the Burlington Garden Club for help decorating the patch. 
People Helping People is a well-known organization in Burlington, and co-organizer Shirley Estrella said she thinks that is part of the reason the whole community became involved with the pumpkin patch. "We needed many hands to unload 700 or so pumpkins and gourds, and approximately 20 people showed up to help," Estrella said. "We were done in about one and a half hours."   
St. Mark's has already seen the community coming together over the pumpkin patch. 
"This project has brought many Burlington residents together who would never have known each other and who are all working for the same cause," said Estrella. "It has put our little church in the forefront."
The Walpole pumpkin patch at Epiphany parish is open weekdays from 11 a.m. to 7 p.m. and on weekends from 10 a.m. to 7 p.m. 
The Burlington pumpkin patch at St. Mark's is open weekdays from 2 p.m. to 7 p.m., Saturday 10 a.m. to 7 pm and Sunday noon to 7 p.m. 
--Ellen Stuart
Bright Ideas are occasional features highlighting creative programs and projects in congregations of the diocese, published to inspire others in their service to God, their communities and one another. This section is not intended to advertise specific events or fundraisers (though some Bright Ideas may have a money-raising component). Event postings may be submitted here.  
Submit Bright Ideas for consideration to news@diomass.org.