As part of their Christmas gift giving this year, members of the Church of the Good Shepherd in Watertown are turning off lights in unused rooms, air drying laundry and carpooling--just a few of the relatively inexpensive carbon-emission-saving acts that are part of the parish's holiday Give-to-the-Earth Tree project.

The paper tree went in the parish hall in early December.  Using a list of "25 Steps Under $25" from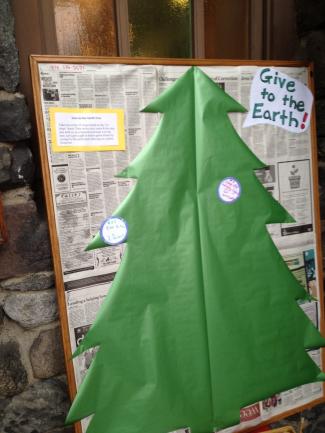 COURTESY PHOTO The Give-to-the-Earth Tree is being decorated with simple acts of environmental stewardship. www.coolcongregations.org as a guide, parishioners are invited to do something that decreases their carbon footprint, then write what they did on a paper ornament and hang it on the tree.

The Give-to-the-Earth Tree, they say, is both an alternative practice toward living more simply and with intention and, beyond its potential environmental benefits, a way to counter the consumerization of the season--in short, a gift that keeps on giving.
Bright Ideas are occasional features highlighting creative programs and projects in congregations of the diocese, published to inspire others in their service to God, their communities and one another. This section is not intended to advertise specific events or fundraisers (though some Bright Ideas may have a money-raising component). Event postings may be submitted here.  
Submit Bright Ideas for consideration to news@diomass.org.